Famous: Ruszwurm Confectionery
The establishment of the traditional pastry shop »Ruszwurm« in Budapest is famous for it's interior in the Biedermeier style.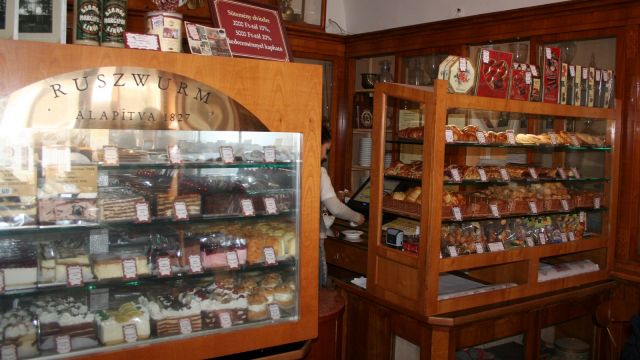 For 200 years in Budapest
Of course, the confectionery Ruszwurm is famous for its long history. The history of the confectionery goes back to the year 1827. At that time, the confectioner Fernec Schwabl founded the business. He died a few years later. After him Lénárt Richter replaced Ferenc Schwabl as managing director. Lénárt Richter had married the widow of Ferenc Schwabl.
From a carpenter and a sculptor Lénárt Richter set up the bakery in the style Biedermeier. This furniture and interior is still exstiing. The traditional pastry shop is an attraction for tourists today. Many visit the pastry shop to sample a piece of the famous "Ruszwurm Cream Pastry". And of course people want to see the Biedermeier style furniture and interior.
The Ruszwurm Cream Pastry
Of course, the "Ruszwurm Cream Pastry" is not the only delicacy offered in the pastry shop Ruszwurm. However, it is almost a duty of a tourist in Budapest to try these cream cuts. In Hungary, these foods are simply called "the creamy" (Hungarian: "Krémes"). However, the »Ruszwurm Cream Pastry« is not loosened up with foam of egg white but loosened up with cream.
In the original recipe, 10 egg yolks, 350 grams of sugar, 120 grams of strudel flour and a vanilla bar per liter of milk are provided. Although the recipe is public, but this cream slice is still only produced in one pastry Ruszwurm.